March 2023 Newsletter
Know News Is Good News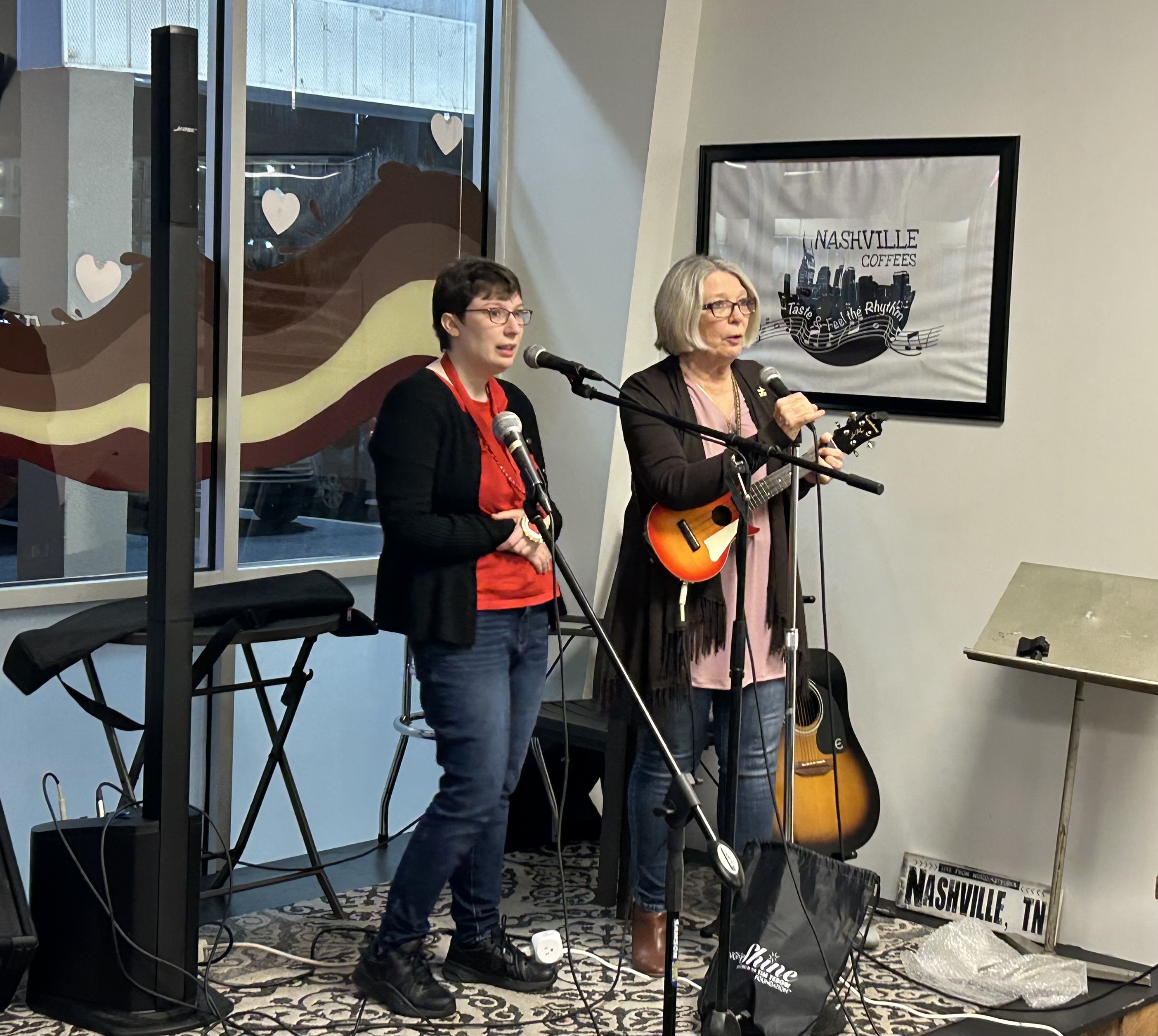 Hello Everyone,
Happy March from our hearts to yours! 💚 🙂 We're starting to see a little green returning to the leaves.  Spring is getting closer. 🙂  Here's the latest!
News & Views:
Our Weekley Hall Singers will be bringing the Joy to Legacy Village in Hendersonville this month. 
 
A new piece of Morgan's art will be on display digitally at Nashville BNA airport, as part of a Borderless Arts TN exhibit.  Details coming soon.
Just Love Coffee Hendersonville is hosting Songwriter Showcase afternoons on the second and fourth Saturdays.  Morgan and I join them once a month.  It's a great venue.  We love playing local.  Morgan said to tell you we're back.  Click here to see a song written a few years back, about her favorite Saturday morning activity. Breaking The Fast. 
66 Books of the Bible was written to challenge young adults with disabilities to learn all the books of the Bible.  Our church group enjoyed learning it.  Now it's your turn.  Check it out now on your favorite digital outlet. 
 
CHECK OUT 66 BOOKS LYRIC VIDEO 
 
Through Wordpress, Youtube, and Facebook, we share our family's walk with autism, the ups and the downs, always with the intention of helping and encouraging other families.  
Check out this month's Know The Hope Blog; 
Know The Hope, Inc. Disability Advocacy through the Arts. We help communities see ability, and parents see possibility.  Morgan & Mom share our family's experience through stories and songs to give you a personal view of life on the autism spectrum. 
To view music, please check out our Music Store
Schedule:
Saturday, February 25th - Hendersonville, TN
 
Just Love Coffee Songwriters Showcase
 
1:00pm till 5:00 pm
 3:00 pm Morgan & Mom 
 
Monday, March 6th - Facebook Live
9:00am CDT A Visit With Mom 
Healing The Heart
March Tuesdays 9:00am CDT
Facebook Live - Story Time with Morgan & Mom
Sunday, March 12th - Hendersonville, TN
Legacy Village Assistive Living
11:00 am The Weekley Hall Singers
Saturday, March 25th - Hendersonville, TN
Just Love Coffee 117 Saundersville Rd. Songwriters Showcase
3:00 pm Morgan & Tammy Vice 
Tuesday April 4th - Nashville, TN
Bluebird Cafe'
20th Annual Breaking The Chains Benefit for Autism TN
6:00pm Round - Tammy Vice, Stephen Lee Veal, John Swaim and Suzi Ragsdale.  Featured Guests: Logan Blade and Morgan Vice
9:00pm Round - Les Kerr, Jerry Salley, Carl Jackson and Wood Newton
Reservations for both shows open up one week prior to event, available online only at The Bluebird Cafe' 
Friday, April 21st - Hendersonville, TN
Trinity Baptist Church 840 Forrest Retreat Road
Midnight Cry Coffee House
7:00 - Morgan & Mom
Friday, April 28th - Burns, TN
Living With Purpose On Purpose Women's Retreat 
 
Until Next Time,
 
Much Love!
Know The Hope
Tammy Vice