Previous events
Morgan & Mom read a story and talk about Morgan's favorite things.
Songwriters Showcase from 1:00 till 5:00 pm. Morgan and Mom are scheduled for 3:00pm. We'll be sharing some original co-writes and conversation.
Morgan & Mom read a story and talk about Morgan's favorite things.
Know The Hope Connections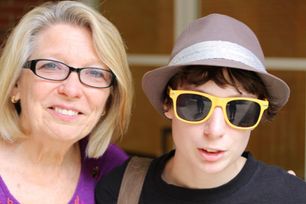 Tammy and Morgan Vice
The purpose of Know TheHOPE, Inc. is two-fold. 
We are dedicated to helping communities see Ability, and helping parents see Possibility. ;-)
"As the mother of a young adult on the autism spectrum, I've had the privilege to know, and work with, lots of children who have disabilities.  Through this experience, I've found that every individual has something significant to offer.  Love, patience, and a little creativity, unwraps some sweet gifts." - Tammy Vice
Supporting and strengthening families; Through media and the arts, Tammy and her daughter, Morgan,provide encouragement and ideas for families on how to work and learn together.  Through music and personal stories, education is also provided to business and faith communities, opening the doors to include families with disabilities.
Working with individuals with disabilities; Songwriting skills are shared through small group workshops. Songwriting is a great way to increase communication skills, improve self expression, and simply have fun.

"What really counts, when it's all said and done,
                  are the things we do for an audience of one." - Angel Unaware
MORGAN VICE

Artist - Songwriter - Event Planner
A young woman on the autism spectrum, diagnosed at age three.  In her early years, Morgan had very little functional language.  Most of her meaningful communication consisted of scripted lines picked up from favorite cartoons and movies.  Over the years, she has developed an unfiltered way of stating what's on her mind.  She also enjoys painting and writing songs with her mom about her favorite things.  She is always looking forward to the next big thing, and enjoys adding upcoming events to her calendar.  Check out 52 Blue Mondays, an eBook she recently co-authored with her mom, and our first product offering from Know TheHOPE, Inc.  
52 Blue Mondays is available in print on Amazon.com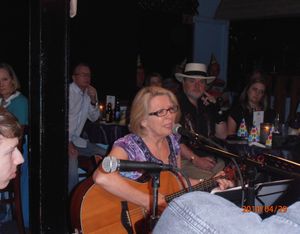 This Nashville recording artist is produced by GodsChild Records. Her CDs include "Love Can Grow", "Miracles & Memories", "Breaking The Chains", & "More Than Just Getting By".
Originally from Mobile, Alabama, Tammy has performed her music nationwide at special events, festivals, churches, conferences, workshops, and music venues. She has also appeared on worldwide television and radio programs.
Tammy was the Country Music Hall of Fame's 2009 nominee for the Mary Catherine Strobel Volunteer Award, and was awarded as VSA ARTS Tennessee 2015 Artist of the Year.
As a songwriter and artist, Tammy has had four songs hit #1 on Christian and Country charts. Also among her writing credits is the theme song for "Come On In" with host Melanie Walker, currently playing on the TCT Network.  She was winner of the 2008 USAGEM Contemporary Christian Crown Jewel Award. 
Tammy is the producer and host of the annual "Breaking The Chains" Autism Benefit, held at the Bluebird Cafe'. April 2018 marked the event's 16th anniversary.  She has become a strong advocate after her younger daughter, Morgan, was diagnosed at age 3.
"Autism is a life long neurological disorder that effects as many as 1 in 59 individuals according to the CDC. Early diagnosis and treatment are essential to help them lead full independent lives."
SINGER - SONGWRITER - SPEAKER 
Sometimes what we think will be our greatest trials turn out to be our biggest blessings.
 "I asked God for patience and flexibility.  He gave me Allison and Morgan..."
"The song 'Don't Give Up On Me' was written after Morgan and our whole family had a meltdown over a Swanson pot pie. ;-)  We're always learning.  My duet partner below is Logan Blade. He's a young man on the autism spectrum who is very talented.  Hearing his story about a music teacher, who didn't give up on him, gave this song a whole new meaning.  It's always an honor to share the stage with him.  Autism has introduced me to some pretty incredible people.  I'm a blessed mom.
If children came with an owner's manual, we'd all feel a lot more confident in the countless decisions that have to be made regarding their health and their future.  Instead we learn together, by trial and error, wrapped in love. 
As a parent of a child with special needs, the goals may change, but the dreams are the same.  We want our children to live a happy and fulfilled life, blossoming into everything God intended them to be.
"I have been in that place of isolation and hopelessness.  I know what it's like to be consumed with fear and doubt.  My heart is for people who are still there.  I hope, through sharing what I've learned in my family's journey, that we can all get to a better place." Tammy Vice KNOW THE HOPE