Morgan & Mom share a favorite story and talk about their day
Potluck and Songwriters rounds
Know The Hope Connections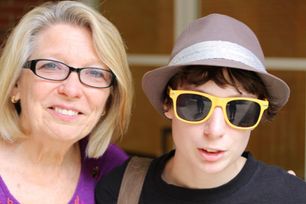 Tammy and Morgan Vice
The purpose of Know TheHOPE, Inc. is two-fold. 
We are dedicated to helping communities see Ability, and helping parents see Possibility. ;-)
"As the mother of a young adult on the autism spectrum, I've had the privilege to know, and work with, lots of children who have disabilities.  Through this experience, I've found that every individual has something significant to offer.  Love, patience, and a little creativity, unwraps some sweet gifts." - Tammy Vice
Supporting and strengthening families; Through media and the arts, Tammy and her daughter, Morgan,provide encouragement and ideas for families on how to work and learn together.  Through music and personal stories, education is also provided to business and faith communities, opening the doors to include families with disabilities.
Working with individuals with disabilities; Songwriting skills are shared through small group workshops. Songwriting is a great way to increase communication skills, improve self expression, and simply have fun.

"What really counts, when it's all said and done,
                  are the things we do for an audience of one." - Angel Unaware
MORGAN VICE

Artist - Songwriter - Event Planner
A young woman on the autism spectrum, diagnosed at age three.  In her early years, Morgan had very little functional language.  Most of her meaningful communication consisted of scripted lines picked up from favorite cartoons and movies.  Over the years, she has developed an unfiltered way of stating what's on her mind.  She also enjoys painting and writing songs with her mom about her favorite things.  She is always looking forward to the next big thing, and enjoys adding upcoming events to her calendar.  Check out 52 Blue Mondays, an eBook she recently co-authored with her mom, and our first product offering from Know TheHOPE, Inc.  
52 Blue Mondays is available in print on Amazon.com